A tasty dish for four people by Andras Altorfer with salmon as the main ingredient
Ingredients for four people
600g filet with skin
1 tablespoon olive oil
1 tbsp frying butter
Salt and pepper from the mill
Capers and lime vinaigrette
1 tbsp capers
1 tbsp Aceto Balsamico white
2 tbsp vegetable stock
3 tbsp olive oil
1 tbsp lime oil
1 tbsp coarse-grained mustard
1 pinch of sugar
½ lime
1/2 zest and juice
bunch chervil chopped
Salt and pepper from the mill
2 chicory
20 g butter
1 tbsp icing sugar
1 tbsp honey, liquid
1 dl white wine
Salt and pepper from the mill
Portion the fillet into 12 slices of 50g each. Season the fillet slices with salt and pepper. Mix all the ingredients of the vinaigrette and season. Halve or quarter the chicory.
VEGETABLES: Heat the butter and sauté the chicory. Dust with icing sugar. Add honey and deglaze with white wine.
Season with salt and pepper. Keep warm in the oven at 80 degrees.
Fry the fillet slices in olive oil and butter, first the skin side, then the flesh side. Fry. Total frying time 4 minutes. The fillet slices should still be glazed on the inside.
Arrange the chicory on a plate and add the fillets. Pour the vinaigrette on top. Serve.
Serve with Smoked salmon side, uncut (1000g)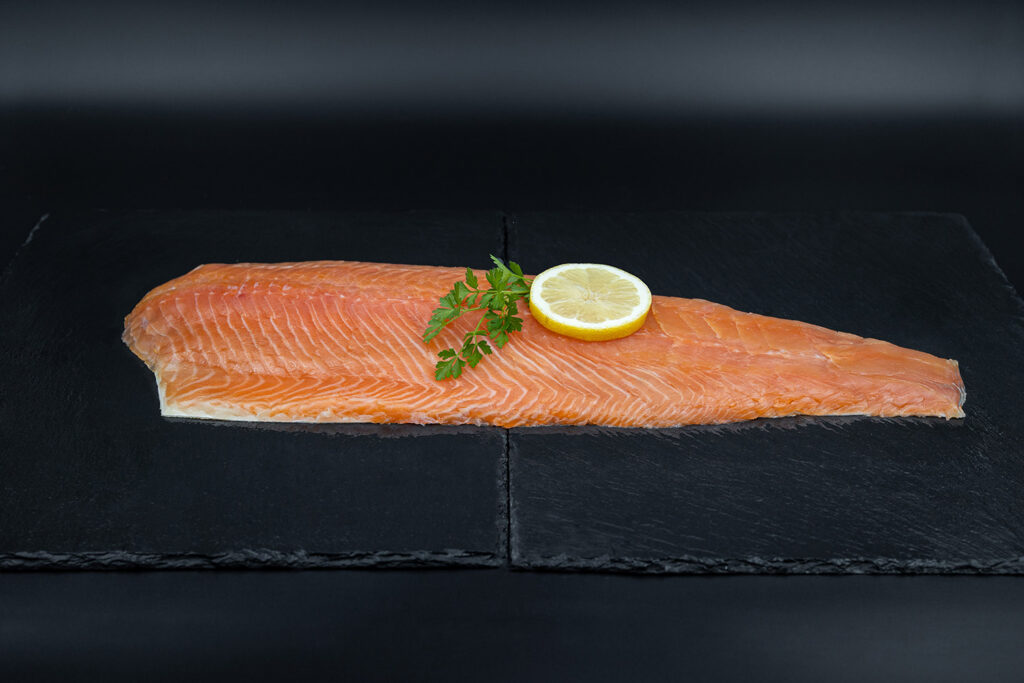 Delicious Swiss salmon side from our sustainable salmon farm in Lostallo, Graubünden, where the salmon is raised in fresh mountain water without any chemicals, antibiotics or microplastics. By starting the smoking process immediately after the fish come out of the water we are able to produce an outstanding delicately flavored smoked salmon. Our highly skilled Scottish craftsmen with decades of experience start off by filleting the fish and then placing the fillets in a brine bath overnight, after curing it is gently smoked over a blend of the finest beech and oak woods for 24 hours resulting in an incomparably refined product. You will greatly enjoy this delicious fish.