First Salmon Farm of Switzerland
Recirculating Aquaculture Technology
The recirculating aquaculture system technology is the most advanced and elaborated type of aquaculture. Our water is filtered sevenfold, we recycle all our waste in a local biogas plant. The fish is growing in melted snow entirely free from chemicals and antibiotics. The result is a fresh, healthy fish which is not only fresher, healthier and more sustainable, it also tastes better.
Our circulation system is closed, there is no fish escape, no chemicals or antibiotics which damage other sea life. The technology of the closed water cycle is particularly ressource-friendly and reduces the need for fresh water to below 2%.

SWISS LACHS produces salmon for the
Swiss market. Local production guarantees
a freshness never seen before. Our short
transport routes ensure the lowest
possible C02 emissions. Imported salmon
takes up to 5 days to reach the Swiss border

The closed recirculation system is the most
technically advanced and elaborated type
of aquaculture. Our water is filtered and
reused seven times, making it particularly
resource-friendly; it reduces the need for
fresh water to 2%. Our energy comes from
the local hydropower plant and is green.
The nutrient-rich filter residues are then
recycled into biogas.

SWISS LACHS has a particularly high
quality because all the important
parameters for healthy breeding are
controlled. Thanks to permanent
filtration, our salmon swim in the cleanest
water. We do not use antibiotics,
hormones or other additives. Permanent
monitoring and a strict hygiene protocol
ensure good fish welfare and salmon quality

Our salmon are not threatened by
parasites, predators or birds of prey and
can grow up stress-free and produce the
valuable proteins, omega 3 fatty acids,
vitamins A, D, B12 and iodine.

We source the salmon eggs from Iceland,
these are guaranteed virus and disease
free. Our salmon are raised in an indoor
facility and are parasite free. The fresh
salmon fillets can therefore be consumed
raw as sushi or sashimi without freezing
treatment.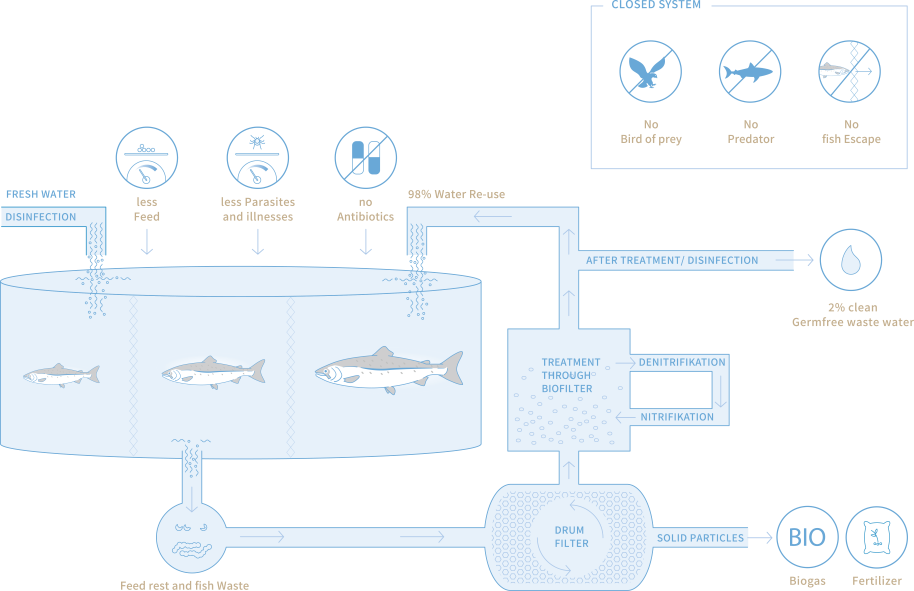 Six times per year we fly in salmon eggs from Island. It takes up to one year that the fish reach a weight of 150g. After another 10 to 12 months they reach the harvest size of 3.5 kg.
Our unique system allows the fish to live happily in a very stable stress free environment with a continuous flow to swim in. We have four propellers who create a nice stream. During the day the farm manager and his team keep an eye on the fish. They measure the water quality, the temperature, the oxygen and pH levels as well as the automated feeding system, which only uses the especially developed highquality fish feed. This fish feed is free of ethoxyquin and is manufactured in France.
After a stress-free rearing and reaching the optimal harvest size of 3.5-4.0 kg the salmon are first electrically stunned immediately killed by cutting the gills. This process takes only a few seconds.
Immediately after processing the fresh salmon will either be smoked at our alpine smokehouse or it leaves the fish farm and goes on the journey to the plates of the connoisseurs.
In our farm the probably freshest, best and healthiest fish are cultivated. From farm to plate we provide exceptionally fresh and delicious whole salmon, fillets, steaks or smoked. 100% Swiss-made, our salmon is free from chemicals and antibiotics.
Atlantic salmon not only scores with its fantastic taste, but is also praised for its healthy ingredients. The salmon is full of vitamins, minerals, omega-3 fatty acids and proteins. Nevertheless, salmon has very few calories. One portion of salmon covers the essential omega-3 fatty acids for five days.
News from Swiss Alpine Fish AG
The increasing demand for fish and the threat to natural fish stocks have led to the emergence of aquacultures to meet the demand fo...
SWISS LACHS is pleased about the Lostallo Civic Community's clear support for the project for the sustainable further development of aq...