An unusual culinary speciality is the preparation of a salmon fillet on Swiss stone pine wood in the grill. Find out here how exactly you can prepare this delicacy yourself.
500g fresh salmon fillet with skin
30g Honey
Spices to your taste*
2 Limes
* Parsley, chives, dill, lemon, onion, garlic, salt or pepper are most commonly used to season fish dishes.
Lockable kettle grill
SWISS LACHS smoking board made of Swiss pine wood
The preparing
The pine wood smoking board must first be placed in a water bath for at least 2 hours so that the wood can absorb enough water. This ensures that the smoking aroma develops in the grill and that the wood does not catch fire.
The marinade
Mix the juice of half a lime with the honey and your seasoning mix. Then stir well.
The salmon fillet
Then place the fresh salmon fillet on the water-soaked smoking board with the skin side on the board. Spread the marinade over the salmon fillet. Then cut a lime to make 12 slices. Then cut twelve small incisions parallel to each other in the salmon fillet, in which the lime slices are then placed.
The smoking
– If you have a Big Green Egg, the smoking time on the Swiss stone pine board is approx. 20 minutes at 120°C.
– Smoke the stone pine board on the grill over direct heat (approx. 200-230°C). When thick smoke appears, place the salmon on the board with the skin side down and place the Swiss stone pine board in the indirect zone. Reduce the heat and cook and smoke the salmon with the lid closed at indirect heat (approx. 160 degrees) for approx. 20 to 30 minutes.
As with steak, the core temperature of salmon also determines the perfect degree of cooking. If you have a core temperature measuring device, the following applies with regard to core temperature and degree of cooking:
43 °C: almost raw, has a deep orange colour and a texture like fresh sashimi.
> > 50-54 °C: tender & lightly browned on the outside, with a juicy, slightly glassy texture on the inside
> > 60 °C: cooked through from the outside to the inside, this temperature should not be exceeded.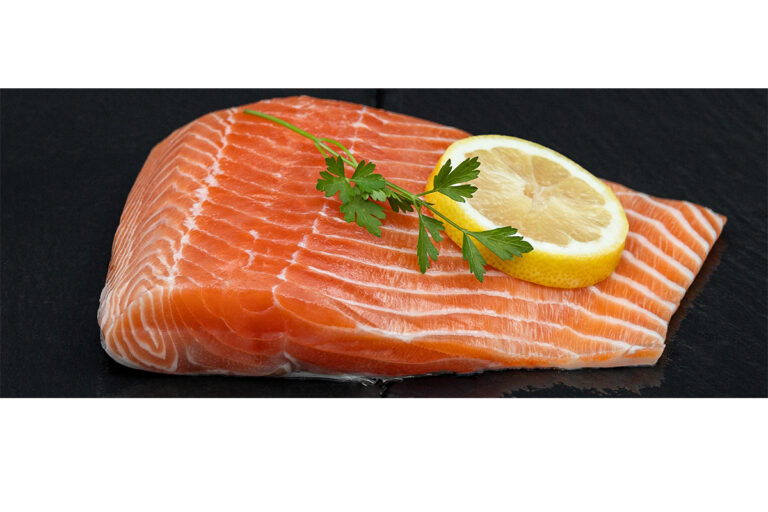 Delicious Swiss fresh salmon fillet from our sustainable salmon farm in Lostallo, Grisons, where the salmon are raised in fresh spring water to the highest quality standards – without any chemicals, antibiotics or microplastics. The fresh fish are processed directly on site and are filleted and carefully parried only upon receipt of your order. We rely on the manual labor of our experienced staff to guarantee the best possible quality.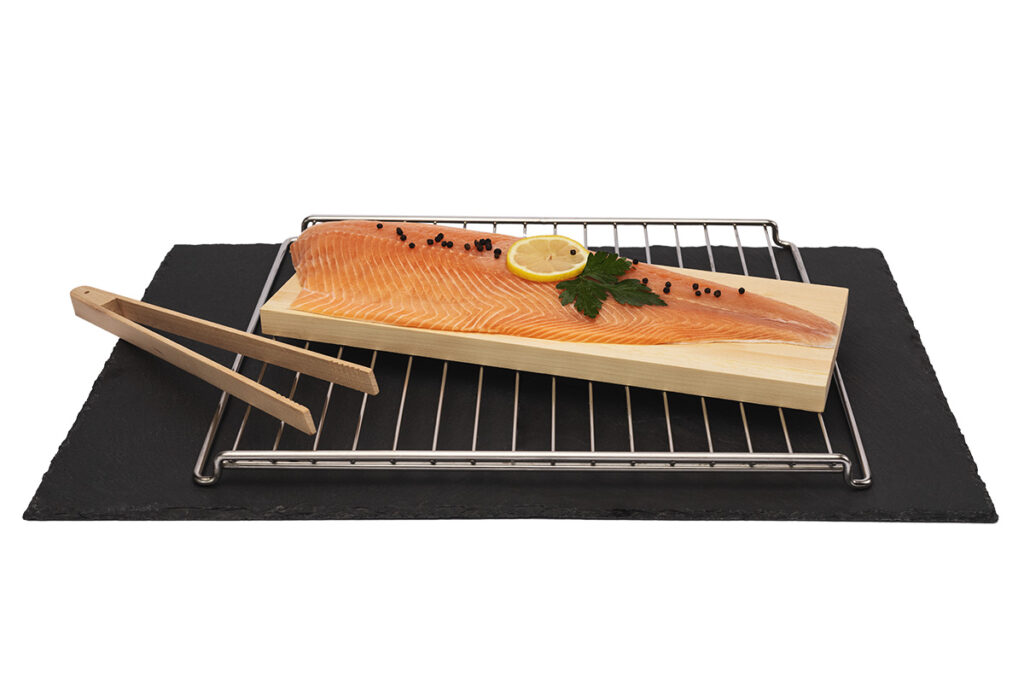 The SWISS LACHS smoking board made of Swiss stone pine protects the grillade placed on it from direct contact with the fire. In addition, the placement on the board ensures that nothing sticks to the grill grate.
Please make sure that the grill grate is free of grease and that the Swiss stone pine wood does not catch fire.