We are pleased to offer you two new products in our shop. The two products have in common that they should not be missing in any salmon gourmet's kitchen. You can now order the "SWISS LACHS Salmon Knife" made by Victorinox with a fine wooden handle, as well as the "SWISS LACHS Cutting Board" made of FSC acacia wood. We are happy to introduce you to these two new products.
SWISS LACHS salmon knife from Victorinox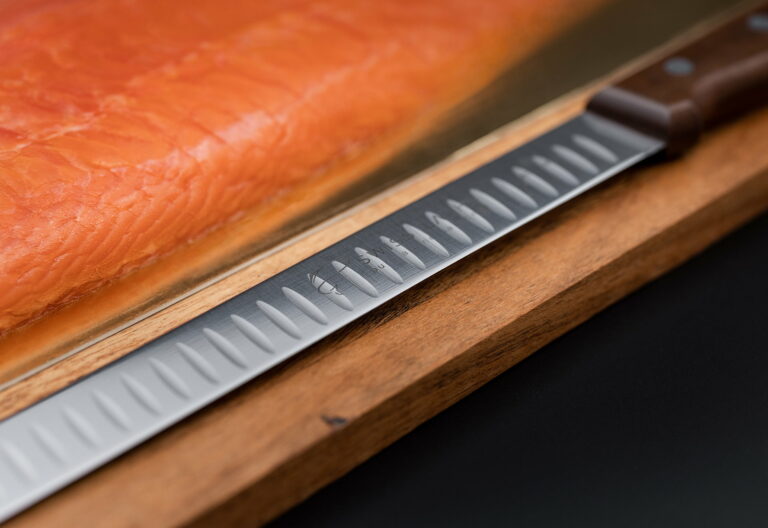 Blade length 30 cm
Weight 110g
Swiss-made salmon knife with precise fluted edge
with high-quality wooden handle, individually crafted by a carpenter in the Muota Valley
Perfect for cutting SWISS SALMON and meat into the finest pieces
Price: CHF 69.00
With the "SWISS LACHS salmon knife" you can fillet your salmon sides like a professional gourmet chef. The long blade ensures that the tip of the knife always remains visible and the fluted edge guarantees a clean cut. The "grooves" in the blade ensure that the salmon meat has less contact surface on the knife. This creates less adhesion and friction and further increases the quality of the cut. Thanks to the high quality and the small contact surface of the knife, it can even be used for more compact smoked delicacies, e.g. for preparing the Spanish delicacy "Jamon Iberico".
SWISS LACHS cutting board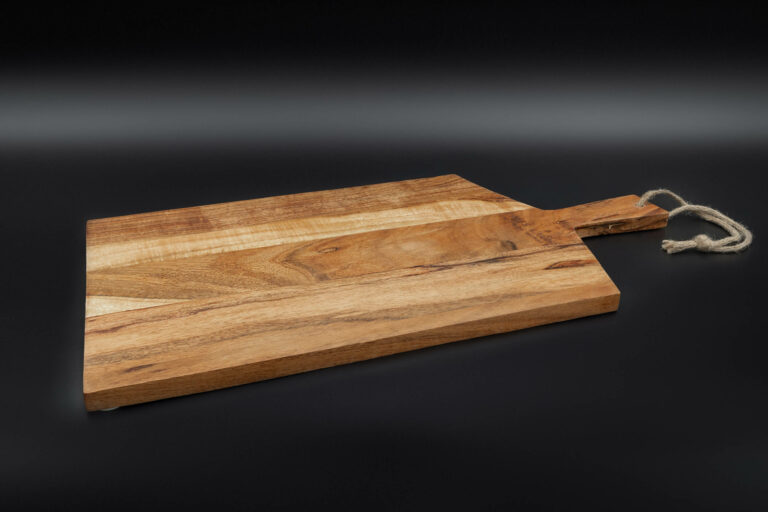 Size: 28 x 52 x 1.5 cm
Material: high quality FSC acacia wood
Colour: brown
Perfect to process and present Swiss salmon and other delicacies
Price: CHF 39.00
The "SWISS LACHS cutting board" not only serves as a suitable base for the optimal preparation of a side of salmon. The high-quality board, made of acacia wood, is also beautiful to look at and is perfect for presenting the SWISS LACHS salmon specialities, which are served with relish.
In order to enjoy your "SWISS LACHS cutting board" for a long time, we recommend treating the wood regularly with cooking oil. This prevents the wood from absorbing water. This prevents a damp microclimate from developing. Qualitative linseed oil or walnut oil are particularly suitable for this. Both are natural oils that penetrate deeply into the wood, but do not contain any additives.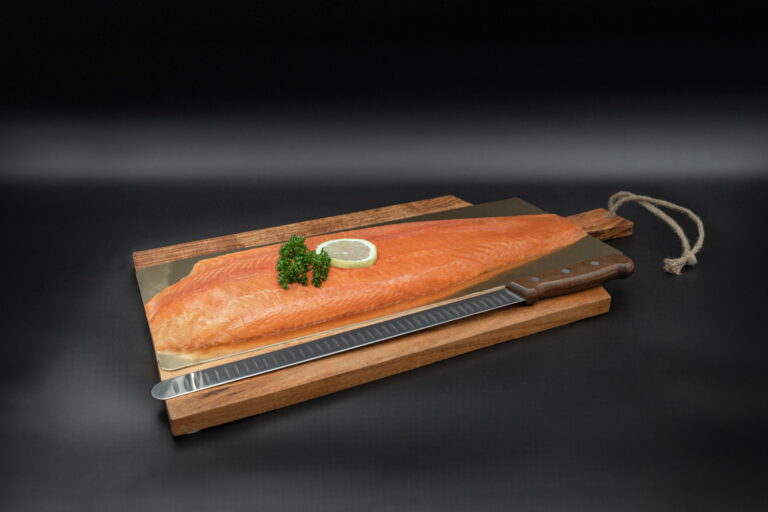 1 SWISS LACHS salmon knife by Victorinox
1 SWISS LACHS cutting board
1 smoked salmon side (uncut) – 1'000g
This gourmet set will turn you into a chef. With the SWISS LACHS salmon knife and the SWISS LACHS cutting board, you not only get the best possible utensils for preparing salmon specialities, but also an uncut, smoked side of salmon (1'000g). The perfect set for filleting a side of salmon by hand, serving it and enjoying it.